Home Healthcare Services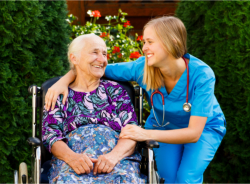 They say that home is where the heart is, and that is why, Govvas Healthcare Services, Inc. keeps in tune with that saying. We believe that whenever a person gets sick, that person would most likely want to stay at home to recuperate. Being at home is so much different from staying in a medical institution, because at home, you can always have your independence, privacy, and dignity intact. The comfort and convenience of home is also another factor that will help you recover sooner rather than later.
In this regard, Govvas Healthcare Services, Inc. is committed to delivering healthcare right at your very own home. You are assured that the care is ordered by the physicians, and every details and aspects of your health conditions are carefully managed by our expert registered nurses. There is certainly no other convenient solution that you can find anywhere else. Call us today at 847-496-4715!