About Us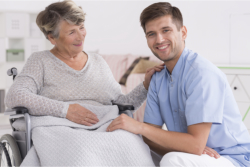 Govvas Healthcare Services, Inc. has been guided with the mission of providing quality care that comes from compassionate people. We are only staffed by people who truly have the innate talent of dealing and caring for others with wide range of health needs in various age groups. Our years of practice have enabled us to perfect the recipe in managing people and their needs. That is why more than just the delivery of health care services, we train our professional healthcare providers to always infuse humane values in their services.
Govvas Healthcare Services, Inc. is known for caring and humane touch. It is the brand of care that we continue to refine so that we could excel in every aspect. Quality care and compassion are what set us apart from others, these two things will remain and continue to be upheld in our service delivery. The sterling name that we have built through the years is a testament that our clients are truly happy with the works we have done for them.
If you want to experience compassion in care, then Govvas Healthcare Services, Inc. is the one that you have been looking for.